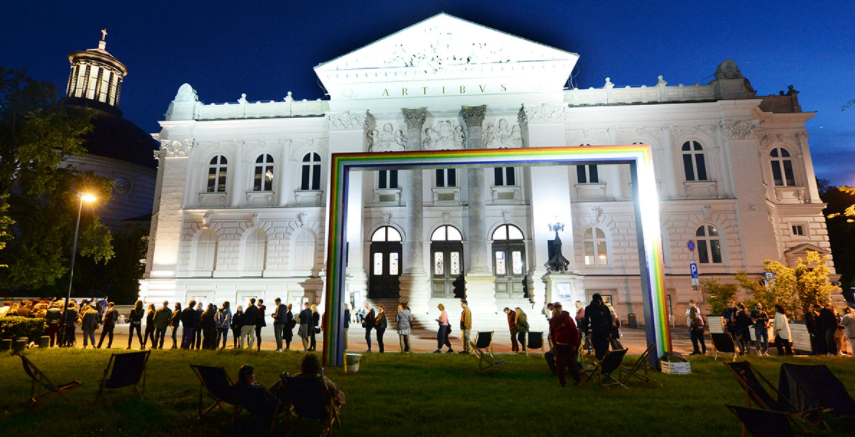 No system is infallible when it comes to museum governance. In the United States, where the majority of museums are governed by independent boards of trustees, institutions are exposed to the many prejudices associated with private funding. In Europe, on the other hand, the majority of collecting institutions are funded and administered by the state, leaving them vulnerable to political appointments and, at worst, ideological takeovers.
Regrettably, same scenario is already unfolding in Poland. Since the right-wing Law and Justice party (PiS) came to power in November 2015, the boundaries of parliamentary democracy with a tripartite separation of powers have been put to the test in a variety of spheres of society. In the realm of arts and culture, an unprecedented number of new appointments as heads of the country's most prestigious museums has occurred during the previous three years, foreshadowing the oncoming collapse of public art organisations. Most recently, Janusz Janowski was appointed director of the Zachta National Gallery of Art, succeeding Hanna Wróblewska, who served as director since 2010.
Few matches have been more disastrous in the history of cultural matchmaking. Janowski is a by-the-numbers figure from Gdansk: an artist and musician with little managerial experience who rose through the ranks of the Association of Polish Artists (ZPAP) to be elevated from his local context and given a platform in the rightist media, where he frequently shares his traditionalist views on art and proclaims the righteousness of the official party line in the ongoing culture wars. Zachta is a major art collecting institution that cares for over 3,500 works of art, employs approximately sixty people (plus contractors), manages three buildings (including the Polish Pavilion at the Giardini della Biennale in Venice), and organises approximately thirty exhibitions per year, each with robust educational programming and averaging between twenty- and forty-thousand visitors. Founded in 1860 as the Society for the Encouragement of Fine Arts—zachta literally translates as "encouragement"—it makes sense that, in addition to purchasing and displaying works by Polish and foreign artists, Zachta has been actively generating cutting-edge initiatives. Among the works commissioned for the Polish Pavilion at the Venice Biennale are new pieces by Krzysztof Wodiczko (2009), Yael Bartana (2011), and Sharon Lockhart (2017).
Thus, Janowski's appointment as director of Zachta is an affront to the Polish art scene. He is a very horrible painter, but theoretically, even lousy painters may be good managers. He has never overseen a large institution, and he exhibits little competence in modern art, which is necessary to fulfil Zachta's objective and continue a dynamic programme of acquisitions and productions. As an illustration: When Szum, Poland's largest contemporary art magazine, questioned Janowski in 2018 about the periodical's history and present operations, Janowski stated that he had never heard of it before. In his public appearances, Janowski expresses his admiration for past great masters (whose iconography and style he seeks but fails terribly to emulate in his own practise) and his commitment to the Judeo-Christian heritage. The latter argument is frequently critical for European nationalists: at best, it is an endorsement of Catholicism; at worst, it is a covert expression of Islamophobia, xenophobia, and racism. In the domain of art, this emphasis on religious heritage acts as a powerful twin sword against the criticality of contemporary art: it obliterates both novel formats and contemporary subjects that can be considered "profane."
If Janowski assumes control of the Zachta National Gallery of Art on January 1, as planned, an era will come to an end. Since 1989's political transformation, the gallery has had four incredible female directors: Barbara Majewska (1990–93), who transitioned the institution out of the Communist-era system; Anda Rottenberg (1993–2001), whose unwavering support for critical and potentially controversial art established her as the Polish archetype of a contemporary curator; and Agnieszka Morawiska (2001–10), an art historian and professional diplomat who solidified the Gallery's statewide presence. Regularly frequented by families, elderly, and people with disabilities, Zachta has been a beloved hub of cultural output with an effect that goes far beyond professional art circles.
In theory, things may still change: the nomination does not constitute an appointment. Hanna Wróblewska received an outpouring of support in July 2021, when it was announced that her contract, which was set to expire at the end of the year, would not be renewed; and various professional bodies consulted by the Ministry of Culture and National Heritage, such as the Polish chapter of the International Association of Art Critics (AICA), gave Janowski negative assessments. (Their opinion is non-binding under Polish law.) A petition started by Zachta's audience has gathered over 4,000 signatures. Artists and cultural workers are now uniting and voicing their opposition through a variety of public and online initiatives. On December 16, staff and friends of Zachta gathered around the 1900 neoclassical structure to embrace it together.
Nonetheless, Piotr Gliski, the Culture Minister, and the rest of the present cabinet have routinely ignored such outcries in the past. Janowski's nomination follows previous changes in executive posts, establishing a trend in which specialists are replaced by party loyalists. It is also indicative that men have replaced women in four recent ministerial appointments—the Warsaw National Museum (directed by Agnieszka Morawiska until mid-2018), the Center for Contemporary Art Ujazdowski Castle (directed by Magorzata Ludwisiak until late 2019), the Polish Sculpture Center in Orosko (directed by Eulalia Domanowska until late 2019), and now the National Gallery. In early December, the press learned that Jarosaw Suchan's contract as director of Muzeum Sztuki in ód — one of the world's first public collections of avant-garde art — had not been renewed; he is now serving as interim director of the museum, which he has led since 2006; a new director will be appointed within twelve months. It has become evident that we are seeing an ideological takeover of public museums with the intention of subordinating their programming to the government's official cultural policy.
In Poland, after consulting with professional groups, the Minister of Culture and National Heritage chooses directors of state-funded cultural institutions. In that respect, none of the recent nominees are illegal. However, this does not make them correct. Members of Poland's cultural circles have lobbied for years for open contests that would allow the best competent and visionary applicant for a certain post to emerge through a transparent procedure. Previous cultural ministers have occasionally embraced the notion; the current minister, Gliski of Law and Justice, has not. In the most egregious case, he rejected the outcome of such a competition: after Dariusz Stola's first five-year term as director of the POLIN Museum of the History of Polish Jews expired in 2019, a fifteen-member committee chose to reappoint him, but Gliski, who agreed to the competition in the first place, refused to sign off. The divide stems from Stola's museum programme, which reflects historical relationships between Polish Jews and non-Jewish Poles, which the PiS would rather portray in a more exculpatory way. After nearly a year of deadlock, the minister nominated Zygmunt Stpiski, POLIN's previous deputy director, to lead the museum. A few years previously, Gliski declined to nominate his own predecessor, Magorzata Omilanowska, as director of Warsaw's Royal Castle.
Janowski's selection as director of Zachta shows two plausible motivations. Either the Ministry of Culture is running out of party loyalists who could serve as at least semi-competent candidates for Poland's art institutions—after all, expertise in contemporary art and support for fascism rarely go hand in hand—or it is attempting to control and punish the contemporary art circles that the ruling, extreme-right authorities regard as the nest of the "rotten left." While much may be made about Janowski's ineptitude, he has a perfect record of adhering to party lines. As an example, he has publicly expressed contempt for "LGBT ideology"—a term that refers to any position on gender and sexuality that differs from that dictated by Catholic morality and is frequently used by the right in Poland's ongoing culture wars—and demonstrated his eagerness by stating that the party's promised cultural changes "do not proceed quickly enough."
Worse still, this is a symptom of a paradigm shift in Poland's post-1989 cultural politics. Is this a return to the system that existed during the Communist era, when Zachta served as the official exhibition space for the Association of Polish Artists, ZPAP? In the People's Republic of Poland, Zachta—then known as the Central Bureau of Art Exhibitions (CBWA)—served as the umbrella organisation for a centralised network of smaller city galleries, all of which were supervised by ZPAP, the country's only professional artist association. ZPAP was in charge of everything from art supplies to the distribution of official governmental commissions. This structure attracted and rewarded mediocrity: regardless of the quality of their work, any member was entitled for an occasional solo display. In 1989, Poland's post-Communist change in the realm of culture was aided significantly by the detachment of CBWA Zachta from that network and the transfer of local Bureaus of Art Exhibitions to city authorities. Reconciling those two entities through the appointment of ZPAP's president to administer Zachta can only end in a catastrophic loss of programming quality.
Today, several local chapters of ZPAP retain their galleries—the majority of Janowski's curatorial expertise comes from the one in Gdask—but the Association has slowly lost its relevance and prestige, devolving into an empty shell with a few entrenched conservatives retaining their posts. ZPAP has only 300 active members, according to a recent revelation by the magazine NN6T, despite its stated membership of around 5,000. Only a small percentage of recent grads join. It is just this type of marginal population holding hatred toward so-called cultural elites that the present ruling party is recruiting to impose its new Polish order. In the lack of a viable alternative professional organisation, ZPAP continues to act as a professional consulting group, which already confers disproportionate power on these few hundred individuals over the country's art institutions. The association has been the ideal recipient of the government's political slogan—"good change"—which pledges to elevate the self-identified "marginalised" to positions of power.
Recent precedents provide insight on Zachta's future under Janowski. As was the case with the National Museum in Warsaw (MNW), the directorship might devolve into a show of ineptitude and chaos: Jerzy Mizioek was named museum director in November 2018 following the resignation of the renowned Agnieszka Morawiska due to communication difficulties with the Ministry. Mizioek, an archaeology professor with no administrative experience, sparked anger by restricting pieces by Natalia LL and Katarzyna Kozyra in the permanent display (for "distracting the young") and then shutting the whole gallery of twentieth- and twenty-first-century art. Mizioek also received backlash from inside his own organisation after he sacked several veteran curators and placed an exhibition including digital reproductions of Leonardo da Vinci's paintings. He was only in office for a year.
In a worst-case scenario, Janowski's tenure could devolve into right-wing extremism based on hate speech, racism, antisemitism, sexism, and homophobia, as is currently occurring at Warsaw's Center for Contemporary Art Ujazdowski Castle, where the current director—appointed without competition in January 2020—has run such a programme. The last two years at Ujazdowski have seen a seminar/book launch warning against "gender ideology," a display of offensive works by an artist previously convicted of inciting racism in his native Sweden, and a blackface performance mocking the death of George Floyd—a veritable nationalist playbook, all carried out in the name of combating "political correctness" and promoting "artistic freedom." (I will not honour this director's crimes by naming him or the artists, precisely since these heinous events are staged for attention.)
There is also a third possibility—sadly, the most likely of the three: the gradual relegation of Zachta National Gallery of Art to the margins of Polish cultural life through irrelevant exhibitions, substandard acquisitions, declining research projects, and ideologically driven educational programmes; a Zachta that gradually loses its hard-won international respect and its connection to contemporary artists—the Gallery's current lifeblood—as well as its public. This must not happen.
Magdalena Moskalewicz was born in Warsaw and currently works as an art historian, curator, and editor specialising in art from former Eastern Europe. She is also an Assistant Professor, Adj. at the School of the Art Institute of Chicago. Hanna Wróblewska, director of Zachta, commissioned Moskalewicz to organise the Polish Pavilion at the 56th Venice Biennale in 2015, and Moskalewicz guest directed Zachta's 2016 exhibition "The Travellers: Voyage and Migration in Contemporary Art from Central and Eastern Europe."